Pool & Spa Lifting Palm Springs, Rancho Mirage, Palm Desert, Indio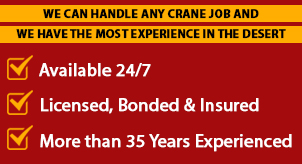 Contact us for Free Estimates
Fill Out The Form Below and We'll Get Back To You As Soon As Possible.
For residential or commercial projects, Desert Crane can accomplish any pool or spa lift. 
Desert Crane has extensive experience with lifting with the right equipment for the right project. Our certified crane operators are dedicated to complete customer satisfaction. We believe in timely service and every job well done.
From residential to commercial projects, Desert Crane is your logical choice for spa or pool lifts. We'll handle any requests, regardless if it's lifting a small jacuzzi or a huge shell. Our crane services can assist in construction jobs at commercial sites, as well as residential projects. Desert Crane works extensively with contractors and sub-contractors. Contact us for your pool or spa lift and we will let you know the details for getting the job done right!