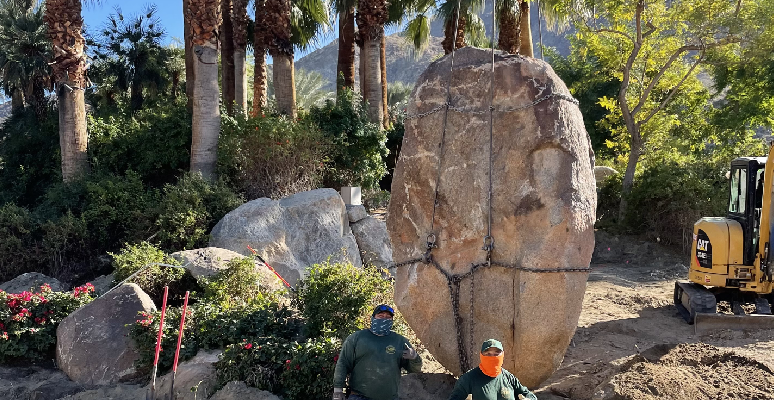 Boulders and Rock Lifting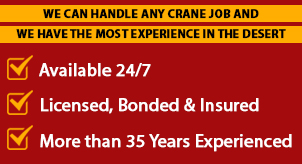 Contact us for Free Estimates
Fill Out The Form Below and We'll Get Back To You As Soon As Possible.
Desert Crane Service of Cathedral City, California can handle all light and heavy-duty lifting projects which include rocks, boulders and natural stone. We have over 35 years' of crane service experience with lifting all types and sizes of boulders, rocks and stone. In the picture above, the boulder weighs 25 tons. With that said, we are able to handle any weight or size rock to set in or around your residence or place of business. The desert scape adds color and texture to landscape. Aside from the visual appeal, rocks in landscape have other advantages. Here in the desert, rocks actually help with moderating the temperature in the summer and winter. Rocks also help with saving water during the drought we are experiencing. If you have huge pallets of rock, sand, gravel or large stones, boulders or rocks, Desert Crane Service can place them anywhere you need with safety and ease.
Desert Crane Service has set, placed, lifted and moved thousands of different types of rocks, boulders and stone here in Palm Springs, Rancho Mirage, Palm Desert, Indian Wells, Cabazon, 29 Palms, and Indio with 100% customer satisfaction.
Feel free to call Desert Crane Service for a free consultation and estimate on the setting and placement of your landscaping needs. Rely on us for the proper lifting of these treasured resources! We are available 24/7 for emergency requests and look forward to being a part of your beautiful landscape.
Contact us at 760-292-2738 at any time. We are available 24 hours a day, 7 days a week for lifting emergencies.